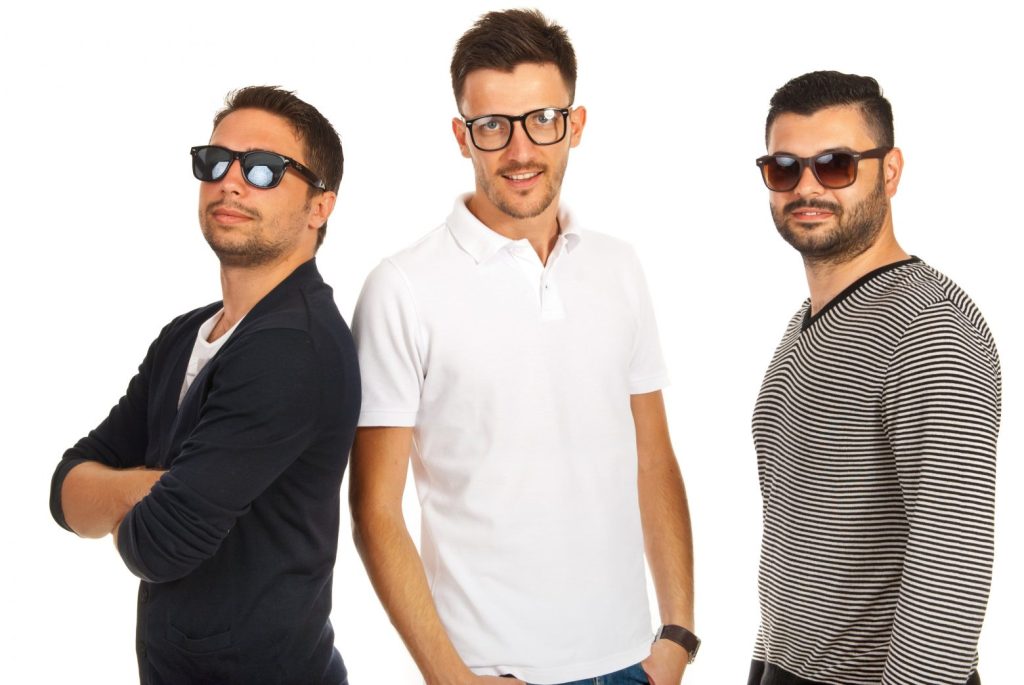 Men should always have a couple of pairs of glasses in their wardrobe to complement different looks. Glasses are a versatile fashion accessory that can take you from formal too casual in a snap.
Small, circular wire frames give a subtle, sophisticated look. Brow-line frames cut a dark, curved line across the browbone for a mid-century, masculine-intellectual edge.
Rounded Frames
Men's glasses come in many styles, but classic rounded frames always stay in style. Whether you prefer the simple transparency of clear frames or the more traditional look of tortoiseshell frames, these minimal options are versatile and flattering for all face shapes.
Round glasses for men give off a vintage vibe and are popular with John Lennon fans, but they also work well for diamond-shaped faces, triangular face shapes, or angular chins that benefit from softer curves. Round frames are also ideal for narrow faces as they balance the forehead and narrow chin width.
You can choose from many colors and rimless styles for these frames, but it's best to stick with neutral shades that complement most clothing choices. For example, black frames pair well with a suit, while silver and gold tones are more appropriate for formal attire. You can even add enhancements to your lenses to suit your lifestyle, like blue light filters for computer screens or photochromic lens that darkens in bright sunlight. You can also try out different combinations of t-shirts and button-downs with your favorite frames through online virtual trialing services.
Oversized Frames
When paired with a suit or blazer, oversized mens glasses frames project a bold appearance and assertive confidence. They also look stylish with more casual outfits, including weekend wear.
Finding the right oversized frames starts with understanding your face shape. Round faces can benefit from wider frames that add depth and structure to the face. Square and rectangular faces can work with most frame shapes, but narrow frames will lengthen the face optically and cause it to look disproportionate.
Next, consider your skin tone and eye color. Warm-skinned men can work with bright colors that pop, while cool-skinned individuals should stick with neutral shades like black or gray. Then, consider the style of your hair and whether you prefer a clean or textured finish on your glasses frame.
Brow-Line Frames
The classic half-rimmed style of browline frames adds a masculine, intellectual edge to any look. First worn in the 1950s, this bold partial frame cuts a dark curved swath across the top of the lenses and is held by a thin wire running around the temples. Popular among millennials, these frames suit any attire, from office wear to a casual weekend brunch.
The right frames for your face shape are essential to finding a comfortable fit. Men with oval faces can support any frame style because their features are evenly balanced, while those with square faces should opt for frames that contrast the strong angles of their facial features.
Narrower face shapes, like those with diamond-shaped faces, benefit from frames that add weight to the top of their face and soften chiseled features. Wayfarers, aviators, and brow line frames speak of vintage styles, while rectangular and geometric cat-eye glasses help elongate a narrow face.
ECO Frames
Shoes fit your feet, pants fit your legs, and glasses fit your face. It's a simple concept that most people understand and apply to their wardrobe, including their glasses. Choosing the right pair of frames elevates your style better than any other accessory.
A great place to start is by identifying your face shape and then choosing a style that compliments it. For example, almost any style works if you have an oval-shaped face with balanced features, but you'll look outstanding in glasses that emphasize width over height.
Men with round faces also enjoy many styles, but they do best in glasses that add a touch of contrast or definition. Try rectangular frames, which help narrow the face by adding depth, or try rounded frames that soften your angular facial features.
Clear Frames
Clear frames, or transparent glasses, have become a popular fashion trend in recent years. They offer a minimalist look that can soften the stark appearance of colored frames on men's faces. These clear-framed sunglasses are available in various pastel shades to suit any style, from aviator to rectangular frames.
Men who wear suits and ties may opt for clear frames that can quickly go with the darker tones of formal dress. Thick, brightly-colored frames are often too casual to complement a business outfit and move into the realm of costume gear.
People with round face shapes can pull off a pair of perfectly circular frames but are better off with square or rectangular styles that accentuate width more than height. People with heart-shaped faces will benefit from narrow frames that draw attention to their prominent cheekbones and narrow chin. Any frame will work if you have an oval-shaped face, including rectangular frames that add structure and definition to your features.