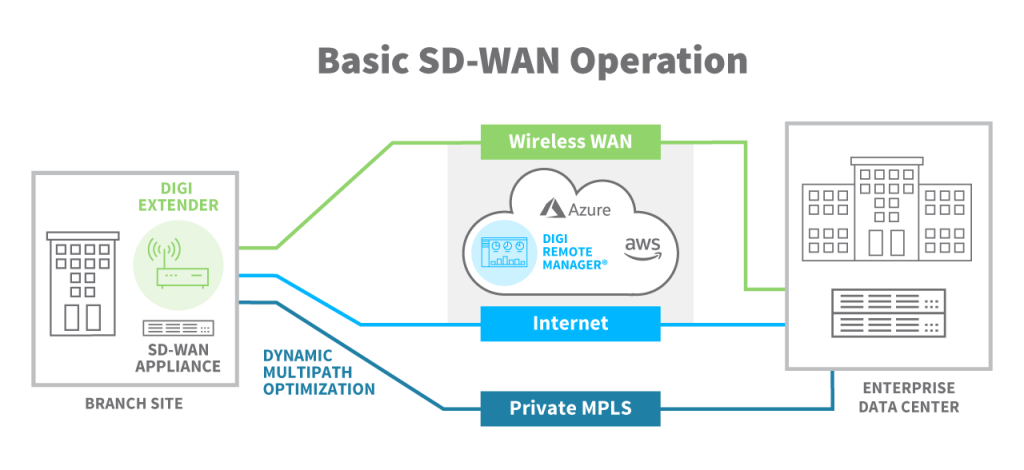 Understanding the basics of SD-WAN allows teams to leverage the technology's benefits. These include centralized control functionality, lower costs, and improved network connectivity.
SD-WAN enables secure connectivity between branches and corporate data centers. It can also improve application performance, reduce costs, and increase productivity. It eliminates the need to backhaul traffic to a central point for inspection, called a security service edge (SSE). It can also route traffic over lower-cost internet connections or cellular networks.
What is SD-WAN?
SD-WAN uses software-defined networking (SDN) technology to improve the management and operation of WAN connections. It creates a WAN transport agnostic overlay network that can replace legacy branch office routers, simplifying the WAN infrastructure. It is also application-aware, allowing IT to steer traffic directly to cloud or SaaS applications, improving performance and reducing costs.
The basics of SD-WAN solution will steer traffic according to pre-defined rules programmed via templates. However, a business-driven SD-WAN solution monitors and learns, providing optimal application performance across the WAN. It means it can adapt and respond to changes in network conditions, including congestion, brownouts, or transport outages, without human intervention.
Centralized configuration also minimizes errors that may compromise security or performance and reduces the time to deploy new applications and policies across the WAN. It compares to the device-centric approach of traditional routers or essential SD-WAN solutions that must configure and enforce policy per device.
SD-WAN also offers a more cost-effective alternative to MPLS by aggregating multiple diverse networks, such as Internet wired and wireless connections, and deploying private MPLS circuits where possible or providing a pure IP VPN. It also supports using LTE to connect remote or temporary locations in a zero-touch fashion, helping enterprises increase productivity and business agility while cutting overall costs. It can also host third-party virtual network functions on a single universal CPE (uCPE). It avoids the need for separate hardware for each function or run in the cloud, further reducing costs and complexity.
What are the Benefits of SD-WAN?
From the enterprise perspective, SD-WAN provides high-performance network connectivity that is cost-effective and flexible. It is because it leverages multiple transport methods, including broadband Internet, MPLS, and xDSL. It also eliminates the need to buy dedicated bandwidth or invest in expensive routers at each site. In addition, enterprises can benefit from lower maintenance costs and reduced deployment times.
Another significant advantage of SD-WAN is its ability to prioritize traffic based on business criticality. It is achieved through a software policy that analyzes bits of traffic and determines what is and isn't essential. It helps businesses achieve better application performance and improved security hygiene.
Furthermore, SD-WAN can reduce the risk of downtime due to a WAN outage by providing a faster and more reliable way to connect to remote offices and cloud infrastructure. It enables a link-bonding technique that combines different connectivity options to improve last-mile performance and resilience. It is advantageous when connecting to locations with unstable or unreliable transport links such as xDSL, 5G, and satellite.
Lastly, SD-WAN can provide a more effective way of handling data migration between sites. That is because it allows for more efficient use of existing Internet bandwidth and can reduce the time it takes to update software or firmware. In addition, it can help to reduce storage requirements by storing data in the cloud.
What are the Challenges of SD-WAN?
SD-WAN reduces costs by enabling organizations to connect remote sites and mobile workers to the corporate network via low-cost Internet. It also helps to improve WAN performance by providing application-level visibility and control, directing traffic over the best possible network based on business needs. However, like any network technology, SD-WAN has its challenges.
Choosing the right SD-WAN vendor is one of the most significant challenges. The vast array of marketing data points can be overwhelming, and IT teams need to make sure the vendor they choose can deliver on their use cases for digital transformation across WAN services.
Another challenge is ensuring an organization can scale its SD-WAN infrastructure with its growing business. It's essential to have an SD-WAN solution that supports the ability to add new connections quickly and easily and supports remote and mobile users. It's also essential to have an SD-WAN solution that can handle traffic aggregation and bonding of private and public connections and provide load-balancing and security functions.
Finally, it's critical to have an SD-WAN solution that provides easy management and monitoring capabilities. IT teams must quickly detect and resolve application performance and connectivity issues. Additionally, they need to be able to view site-to-site network traffic analysis to understand and verify that SD-WAN policies are working as intended.
What are the Solutions for SD-WAN?
A few SD-WAN solutions provide businesses with increased network performance and security. These solutions include an SD-WAN box connecting the organization's website and the provider's private fiber-optic network. This solution provides the benefits of reduced latency and packet loss and enhanced performance for cloud applications like Office 365. However, this solution can be expensive and requires dedicated IT teams to implement and maintain it.
Another option is an SD-WAN solution that uses multiple local internet connections to connect branches to the data center reliably. This solution is much cheaper than traditional MPLS networks and performs better. It can reduce jitter and latency and improve application performance by using multiple routes to send data.
Finally, an SD-WAN solution that combines an intelligent WAN router with a global private backbone can offer the best of both worlds. This solution can leverage multiple local internet connections to connect branches reliably, and it can also use a single private connection between the data centers for high-speed connectivity. This solution can also improve security by encrypting all public Internet traffic and protecting sensitive information from hackers. It ensures that only authorized users can access the network, preventing them from accessing data intended for other locations.