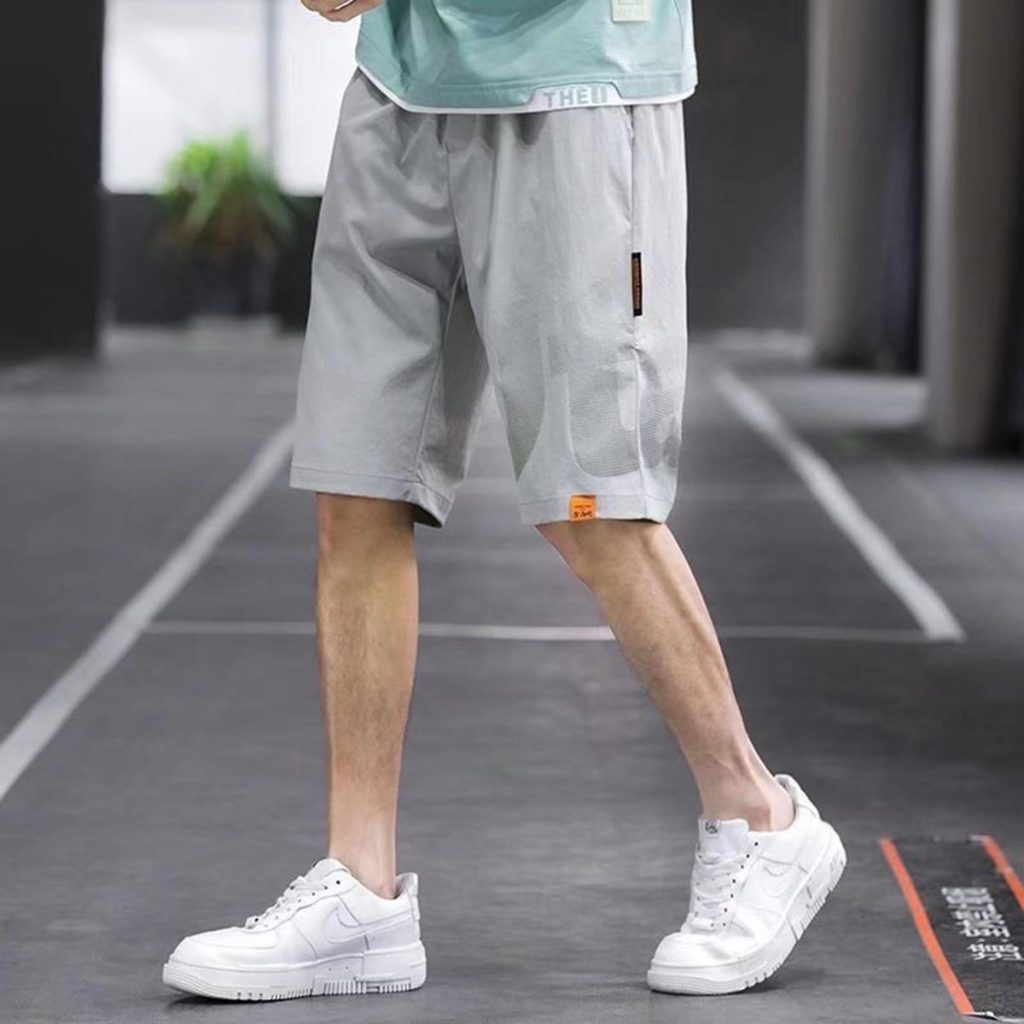 You'll look great in shorts with an apple, pear or hourglass body shape. The key is to create a visual illusion of curves by choosing clothing that suits your specific body type.
For example, if you have wide hips, opt for slim-fit shorts in dark colors that make your legs look longer and slender. Avoid light shades or striped patterns.
Slim or Athletic
This pair of slim-fit casual shorts for women is a great option for women who want casual wear that's still lightweight. The soft fabric is breathable, and the pockets are perfectly placed for maximum convenience. They also provide plenty of room for your phone and keys when working out.
The ribbed texture adds an extra touch of style, and the high-waisted design boosts your booty. The seams are smooth and won't chafe, and the waistband is designed to stay in place during high-intensity workouts.
This blue pair of chino shorts is another casual wardrobe staple that can be dressed up or down for any occasion. The navy is classic and pairs well with a simple white button-down shirt. The straight silhouette is a flattering choice for those with full hips and a slim waist.
Wide Hips
You can still find plenty of casual short options if you're a woman with wide hips. The key is to look for styles that cinch in at the waist. This creates an hourglass illusion for curvy women, hiding a wider lower body and elongating the torso. Wrap dresses and blouses with off-the-shoulder necklines work well for this figure shape, as do blazers and high-waisted jeans.
It would help if you also chose pants and skirts in darker colors or matte materials since shiny fabrics can accentuate your hips. Avoid pencil skirts, as they can make your upper body look bigger and your lower body even wider.
Ladies with apple-shaped bodies can flatter their curves by wearing slim-fitting shorts that are not too tight. You can also highlight your waist with a wrap dress or a blazer that ties at the front. Denim shorts cut off at the thighs also fit this body type. However, long or layered shorts don't complement this figure shape. Instead, opt for a mid-rise fit. This will help you avoid any visual distractions like pockets or ripped details.
Inverted Triangle  
You have an inverted triangle body shape if your shoulders are widest and your hips are narrower. You look best in clothing that creates the appearance of curves in your bottom half and balances out your broader shoulders. Look for tops with V-neck, U-neck, and sweetheart necklines to play down the width of your shoulders. You can also try halter or off-shoulder styles that accentuate your bust and elongate the horizontal line of your torso.
Skirts with volume around the hips are ideal for this body type, as are wrap dresses made from jersey fabric. A-line and gored skirts that flare at the waist also work well for inverted triangles, as do midi-length styles.
Reformation makes casual, cute classics that flatter this body shape, offering them petite up to extended sizes. The sustainable apparel brand uses fabrics like organic cotton, hemp, Tencel lyocell, and recycled materials to minimize social and environmental impacts. People Tree is another ethical clothing label that makes affordable and feminine clothes for this body shape, with lace dresses, sweaters, knitwear, belted coats, and pink blazers, among other items. The company invests in the livelihood of disadvantaged workers while promoting fair and sustainable practices.
V-Shape
For women who love running, wearing shorts that fit well and provide proper ventilation can help you hit your best times. The fabric of these workout-ready options is often made with breathable materials that won't bunch, chafe, or ride up, and some even have built-in liners to provide extra support.
They feature a brief-style liner (think underwear) for added support but aren't visible from the outside. They're also incredibly lightweight, making them one of our top picks for summer trail runs.
They're also high-waisted to stay securely in place without digging into the waist or squeezing a sensitive lower abdomen. And they have a zippered back pocket for carrying identification or a few dollars, ideal for running alone on the trails.
Petite or Tall
If you fall into the petite category, it's easy to find shorts that fit your body and look great. Little clothing is designed to elongate the limbs and often includes vertical stitching, shorter sleeves and hems and other details that make the shorts work with your body proportions.
Look for cuffed styles that create the slimming effect of the 2/3 – 1/3 silhouette, or try paper bag shorts with a self-tie waistline that sits at the narrowest part of your waist to lengthen the legs. You can also choose a sheath dress to create an overall lengthening effect.
Another great option for petites is a pair of black denim shorts—the high-waisted silhouette and the darker color help elongate the legs.