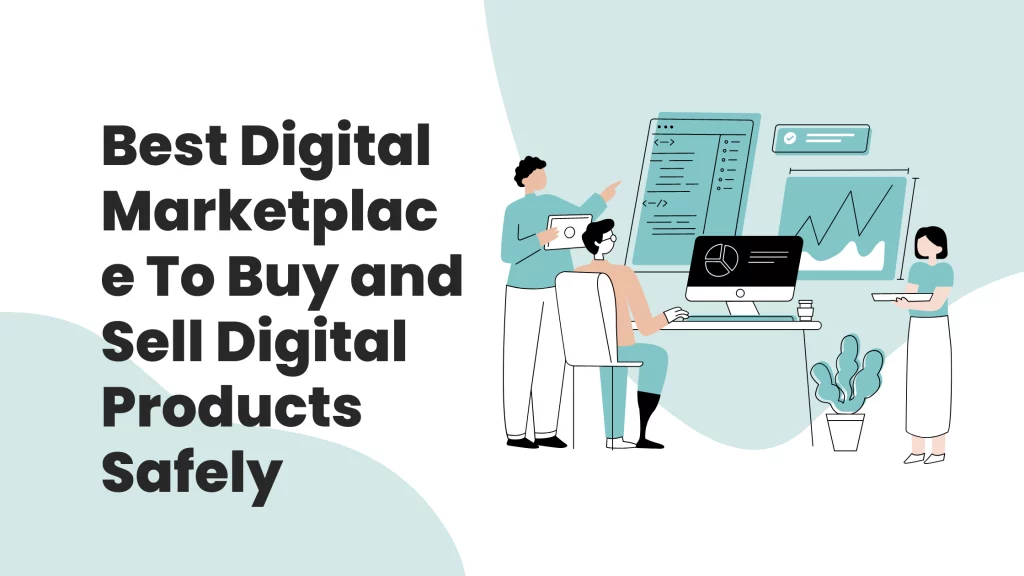 Best Digital Marketplace To Buy And Sell Digital Products Safely
If you're looking to sell digital products, there are a few places to start. These include e-commerce platforms, online marketplaces, and social media.
E-commerce platforms offer tools for setting up an online store, selling digital products, and managing orders. Some also have customer support and payment systems.
Amazon
One of the biggest online marketplaces in the world, Amazon offers a huge range of products that can be purchased from any location. It's an excellent place to get started selling your own digital products.
Whether you're a beginner or an experienced seller, it's important to know your limits when it comes to the sales you can make on Amazon. The key to success is to stay within Amazon's terms and policies, which are updated frequently. You also need to avoid any practices that might put you at risk of suspension from the platform.
It's also important to note that there are various fees you need to be aware of when selling on Amazon. Some of these include referral and closing fees, which are charged when a product is sold through your link.
Finally, you'll want to keep your prices in line with Amazon's fair pricing policy. This policy states that you can't use prices that are "harmful to customer trust." It's a good idea to review your listings before you list them on Amazon to ensure you're following this policy.
Etsy
Etsy is a large marketplace that connects buyers with sellers. It offers a wide range of niche products and is a popular choice for artisans and small businesses to sell their products online.
Etsy makes it easy for beginners to set up and run their own shops. The platform has built-in shipping solutions, customer service, and analytics that make it easier for people to launch and grow their businesses without having to spend time learning how to manage a website.
You can also use Etsy Ads to target potential customers and drive more traffic to your shop. This is a great way to increase your sales and build brand awareness, but it's important to be cautious.
Some sellers use Etsy to scam other customers by listing fake or counterfeit products and creating fraudulent stores. These scams can be dangerous and can steal your personal information and money.
As a result, it's important to do your research before making a purchase from an Etsy seller. Be sure to look at their reviews and social media pages to see if they've had any complaints.
Sellfy
Sellfy is an e-commerce platform that provides you with everything you need to create, market, and sell digital products. It's perfect for startups or small businesses that want to increase their revenue while also offering their customers a great shopping experience.
It allows you to create a store and add products in minutes. You can also share your products on different social media sites in just a few clicks. It also offers secure product storage and unlimited bandwidth. You can use it to sell anything from ebooks and music to videos and courses.
The Sellfy Help Center is a fantastic place to get answers to your questions about using the platform. You can also find FAQs by searching for a specific topic.
With the free forever plan, you can sell a maximum of 10 products on the platform. Alternatively, you can upgrade to their starter or business plans.
You can use the dashboard to get a better understanding of your sales activity. It displays metrics like Purchases, Conversions, and Revenue. It will also show you how much you've generated from your store in a particular period of time, which is important if you want to track your progress and make changes to improve your business.
You can also customize the emails that you send to your customers. The platform provides a range of templates that you can choose from, including purchase confirmation and item shipped emails. You can even set up automated email campaigns that target certain groups of people based on their purchases or subscription status.
DPD
In a sea of digital marketplaces, DPD is one of the best places to buy and sell digital products. Their platform is easy to use, and their customer support team is always ready to help. They also offer a range of discounts to their most frequent customers and provide free shipping for orders over $99, which can save you hundreds in the long run.
The DPD e-commerce solution also features an app that allows users to create custom delivery options, track their packages, and access information about their shipments from anywhere in the world. It's a great way to make shipping easier for everyone.
Finally, DPD has a very clever system for tracking and monitoring the progress of your shipments, which is a huge benefit to any company in the logistics industry. They even have a special 'DPD mobile app' that allows you to track your deliveries in real-time from anywhere in the world.
The DPD e-commerce solution is a top-notch choice for any business looking to expand its reach across the globe. They have a great customer support team and offer a wide array of services to help businesses grow. It's no wonder that they are one of the most popular online retailers in the world!
Squarespace
Squarespace is a popular website builder that allows users to create beautiful websites without having to have any coding experience. It is also a great platform to sell digital products like e-books, courses, and software.
You can use Squarespace's e-commerce features to sell your digital products and services, although you should be aware that transaction fees can add up quickly. Alternatively, you can try a more dedicated e-commerce website builder like BigCommerce or Shopify.
There is also a wide range of tools to help you set up your site, such as the Assistant module and the online Help Center. These resources offer helpful videos, articles, and tips that can be used to solve your web design problems and questions.
Aside from these online resources, you can also reach out to Squarespace's customer support team for help and advice. The customer support team is friendly and efficient, and they can answer your questions quickly.
In the era of GDPR, it's important to make sure that your website complies with the requirements of GDPR. While Squarespace meets most of these requirements, it can be tricky to get the cookie banner and other consent issues right, especially for smaller businesses.