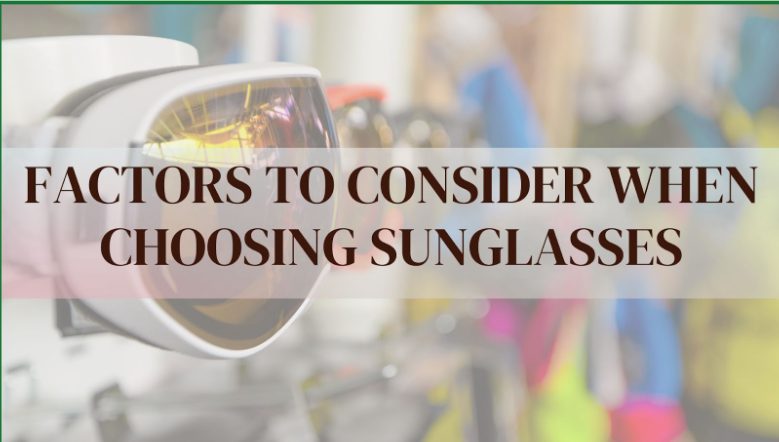 When deciding which type of sunglasses to purchase, it's recommended to consider both fashion and function. If you need sunglasses for sports, there are many criteria to consider. One being the weather conditions, and another being the sports event you participate in. In this article, we'll stipulate different lenses to help you boost your sports performance. 
Factors to Consider When Choosing Sunglasses
When choosing sunglasses for your activity, there are several factors that you must consider. The most important of all is prescription sunglasses with prescription. For instance, many sunglasses have a UV 400 mark, indicating they can provide nearly 100% protection against harmful ultraviolet rays. They block 400 nanometers of UVB and UVA rays that may harm your eyesight. 
Other factors to consider are as follows:
Weather Condition Anticipation
People put on lenses to provide visual support. When choosing lenses for this purpose, anticipate the weather conditions. Some of the features to look at include:
Number of rainy and cloudy days

Consider the presence of reflective elements, such as water.

Keep in mind how harsh the sun's rays are in your location.
Style
How do you want to look? Every individual has different preferences when it comes to style. When picking your lenses your style preferences need to be considered.
Sunglasses come in different colored frames meant for distinct looks and visuals. However, many of these frame colors provide the same feel and visual effect. Therefore, going for the frame color that you feel suits you is often the best way to go.
Game consideration
Different games work well under distinct weather conditions. As a result, different colors of lenses fit certain sports activities. For instance, the prescribed lens color for youth soccer is gray, which lowers brightness and glare on sunny sports days. 
Therefore, before choosing glasses to purchase, consider the game you will participate in.
What Are the Best Lens Colors for Different Sports Under Distinct Weather Conditions?
Different weather conditions call for specific lens colors when participating in certain sports. Here are various lens colors recommended for different weather conditions in sports. 
Gray lenses
Gray lenses help limit UV rays on sunny days. They do so while still providing true-color perception. 
Gray lenses are ideal for weather conditions such as cloudy, bright sunlight, haze and fog, and sunny days. As a result, they are perfect for specific sports activities. These activities include water activities like swimming and deep-water fishing.
They are also good for field activities such as tennis and golf. Additionally, cyclists, racers, and drivers can also use these lenses. These lenses are a perfect choice for outdoor leisure. 
Orange or yellow lenses
These lenses boost vision when there is low light, for instance, on cloudy days. They provide clear focus by filtering blue light. They are most favorable for indoor, morning, or evening activities. 
These lenses are suitable for weather conditions such as smog, haze, overcast skies, fog, and light snow. 
These lenses are the best consideration for mountain climbers as they adjust to changes in weather conditions. Additionally, they are ideal for shooting, driving, tennis, snowmobiling, and racing. These lenses are great for hikers, especially those who hike in wooded areas.
Purple or blue lenses
For those who go for style, these are the best for you. These glasses reduce glare by moving in the opposite direction, blocking light. By doing so, they improve the user's contour visibility and their ability to perceive color. 
The lenses help improve visibility during haze and fog weather conditions and help block direct sunlight. They are also helpful in snowy conditions. 
As a result, these lenses are ideal for activities like fishing, hiking, and outdoor leisure. Further, you can use them for water sports, golfing, and snowboarding. 
Brown lenses
These lenses help block blue light. They reduce glare on sunny days and prevent the user from fatigue. They can enhance vision and soften light at the same time due to the red element in them. 
The red element in these glasses also helps improve depth perception, making them suitable for long-distance sports. These lenses are, therefore, favorable on sunny days, in varied light conditions, and when the weather is cloudy. 
As a result, they are suitable for activities and sports like tennis, aviation, and shooting. Additionally, they are the best for sports on a grass field, such as soccer, golf, and baseball. 
Green lenses
Green lens glasses are the best choice for outdoor activities and can work in any weather condition. The reason for this is that they evenly transmit colors. These glasses reduce glare while providing vision in shadowy places.
These glasses are suitable for cloudy and sunny days. They are also suitable for foggy and hazy conditions, as well as in low-light situations. 
For these reasons, they are suitable for activities such as mountain biking, cycling, golfing, and hiking. They are also good for field sports, water sports, and tennis. 
Pink or red lenses
These glasses also help with blue light filtering. They help boost the user's vision by improving visual depth and contrasting perception. Most drivers prefer them as they increase road visibility due to their low-strain effect. 
Therefore, these glasses suit weather conditions such as snowy, sunny, cloudy, and partially overcast. 
These lenses are ideal for snowmobiling, fishing, and skiing. Additionally, they are best for driving, road cycling, and racing. 
Conclusion
You can improve your sporting activities in any weather by using sunglasses with colored lenses. These include gray color lenses, orange, brown, green, and red lenses. These colors help improve visibility depending on the weather.
Some block bright light, others reduce glare, while others filter blue light. As a result, they are suitable for various sporting activities, including driving, cycling, hiking, soccer, snowmobiling, and even fishing.
When choosing the type of sunglasses to use, consider your preferred style, anticipated weather conditions, and the sport in which you take part.