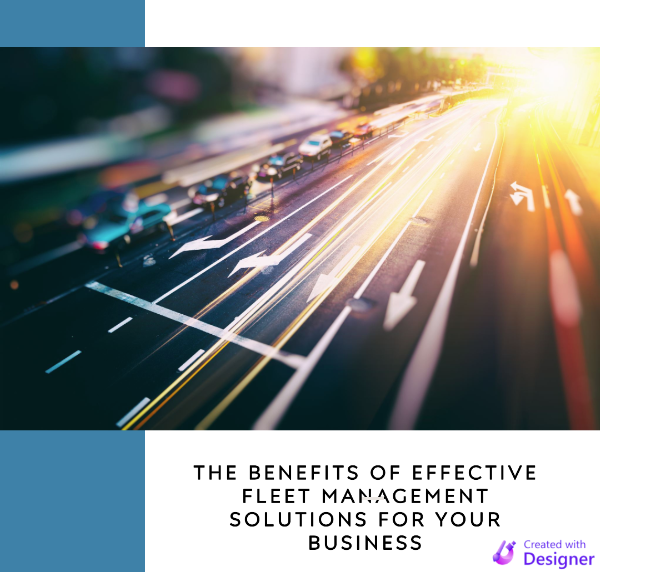 More businesses are today resorting to the use of fleet management solutions. According to recent statistics, there was an 8% increase in 2020 in adopting fleet management technology. Only large corporations with a massive caravan of vehicles used such systems in the past. Today, local neighborhood florists owning several vans also use fleet management solutions. 
Fleet management systems offer businesses of different sizes and shape multiple benefits. This article covers some outstanding benefits of using fleet management solutions for your business. 
1. Control Fuel Consumption 
Controlling the consumption of fuel is the first step in realizing sustainable logistics. When using fleet management solutions, you can receive updates and alerts whenever a particular truck exceeds its daily mileage usage. It can happen due to changes in customer order processing, dangerous driving, or poor route planning. Using fleet management solutions will help prevent such a situation from happening. 
Fleet management solutions from RAM tracking help offer insights into fuel consumption management. Letting vehicle engines run when idle is one of the causes of high fuel consumption. The system has enabled fuel consumption control by notifying drivers to stop their vehicle engines when loading or dispatching.
2. Automated Insights and Reports into Fleet Operations 
Fleet management systems have in-built dashboards for analytics, reporting, and visualization. All the data can easily be extracted and integrated with other systems like accounting software. Automatic generation of reports helps save time and eliminates the possibility of human errors. 
Customizable dashboards and comprehensive charts in a fleet management system promote ROI and profitability, help build a powerful fleet, and improve customer service. 
The reports and insights will help identify the areas where the fleet or drivers could perform better and rectify them to ensure the company is on the right path to achieving its objectives. Using fleet management software also helps you generate accurate reports. 
3. Wear Out Control and Preventive Maintenance 
When a fleet management system uses artificial intelligence, it can improve, making it easier to ensure preventive maintenance and wear-out control. The fleet management system will always collect and analyze data about repairs or planned services. The AI will help suggest when a spare will require replacement or repairs and notify you in advance, preventing any outwear downtime or costly repairs. 
Vehicle maintenance period can be attached to driving behavior, load and time of utilization, mileage, and road quality. It is possible to track all these using the fleet management system, as it will send reminders about maintenance schedules to the fleet manager in advance. With in-time preventive maintenance and vehicle diagnostic, the fleet manager will always be sure that the fleets are working to their best capacity. 
4. Real-Time Data Collection and Analysis
Every vehicle will generate lots of data daily. Using the fleet management system allows one to stay updated and check the indicator whenever one wants. For example, you can check the vehicle's location or the number of deliveries or pickups it has made. 
Using a fleet management system will make it possible for the fleet manager to integrate different data in real-time to get relevant information without wasting much time. The system will also enable quick analysis of the current fleet condition and performance, ensuring no wastage of resources. Reporting tools in a fleet management system enable higher visibility levels and the ability to drill down to particular details and order of the vehicle. 
5. Safety of the Fleet 
One of the main advantages of the fleet management system is that it comes with an in-built driver behavior monitoring system. The fleet manager can specify specific parameters and receive notifications whenever the driver makes an error. Ensuring the fleet's safety helps reduce repair costs, prolong the lifetime of vehicles, and help avoid getting into the wrong hands of the law. 
When the fleet is safe, the consignments will most likely reach their destination safely. Most clients prefer using a fleet that guarantees safe and timely consignment delivery. With a fleet management system, you can flag some routes you consider to be in poor condition preventing your drivers from following them. It helps ensure the vehicle conditions are not damaged easily by things like using bad routes.
6. Prevention of Fleet Fraud 
Despite having a team of professional, honest, and trustworthy drivers, one thing you can never rule out is driver fraud. It is a common practice in logistics the world over. One of the most popular driver fraud attempts is fuel card fraud. For example, drivers can claim the fuel card is lost or stolen or decide to use the fuel card outside of the workplace. 
It is always essential to keep your eyes open regardless of how much you trust your drivers. A fleet management system helps in tracking, preventing, analyzing, and doing away with the possibility of any fraud attempt from the drivers. An AI-powered fleet management system will help quickly detect such anomalies and make data-driven conclusions about the implausibility and credibility of certain types of statements. 
7. Delivery Compliance 
A fleet management system helps in the proper planning of routes. It helps in cutting costs and optimizing the business. Some drivers can use long ways or make many unnecessary stops or diversions. With the fleet management system, you can track every vehicle's progress. 
Late deliveries damage a company's reputation. Most clients will move away from companies that deliver consignments late. To help avoid losing clients, using a fleet management system is essential. 
Rescheduling jobs depending on the incoming changes in routes and orders can be achieved through additional usage of technology and automation. It is impossible to do that manually and stay efficient. Apart from ensuring timely deliveries, it also quickly increases the number of deliveries. 
Conclusion 
Although several advantages come with using a fleet management solution for your business, the overall values narrow down to maximizing efficiency and ensuring visibility into all the fleet company operations. 
This software enables managers to track vehicle operations and collaborate with their drivers quickly to resolve any arising issues. With technological advancements in the 21st century, investing in a fleet management system is the only way to remain relevant in the competitive transport industry. Using fleet management technology will help you lift your business.