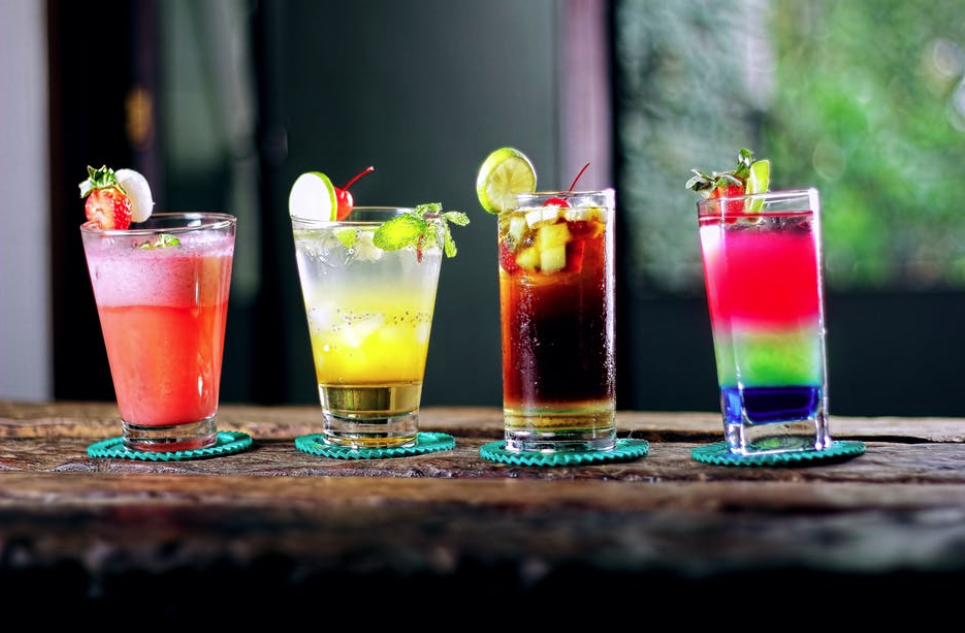 What do James Bond, Ernest Hemingway, and Winston Churchill have in common? 
The answer lies in the illustrious world of classic cocktails!
Sipping on a refreshing drink, flavors dancing on your tastebuds, nothing captures the essence of a night out like an iconic cocktail. 
If you want to know the world's most popular cocktails you're in luck! Ready to raise your glass to newfound expertise? Keep reading, and let us take you on a spirited journey through the world of classic cocktails.
Martini
The Martini is a famous cocktail that people know from James Bond's "shaken, not stirred" line. This classic drink dates back to the late 19th century. It likely originated in either San Francisco or Martinez, California. 
Winston Churchill was known to enjoy a very dry Martini. He often skipped the vermouth altogether with a glance at the bottle across the room. Known for its iconic V-shaped glass, this classic features gin, and vermouth with a garnish of olives or a lemon twist.
Mixing Instructions
Stir the gin and vermouth with ice and strain into a chilled martini glass. Garnish with green olives or a lemon twist.
Variations
For a Dirty Martini, add a splash of olive brine. If you prefer a sweeter touch, try an Espresso Martini made with vodka, coffee liqueur, and freshly brewed espresso.
Mojito
Mojitos boast a perfect harmony of sweetness, tanginess, and refreshing mint that always leaves you wanting more. Originating in Havana, Cuba, the Mojito is a refreshing, minty cocktail perfect for hot summer days. Its history dates back to the 16th century, when it was believed to have medicinal properties. 
This Cuban-born creation involves muddling lime, mint, and sugar before adding rum, ice, and soda water. 
Mixing Instructions
Mix lime wedges and mint leaves in a highball glass. Add simple syrup, rum, and ice. Top with club soda with a gentle stir. Garnish with a mint sprig.
Variations
Experiment with different fruits like strawberries or raspberries for a fruity twist. For a non-alcoholic version, omit the rum.
Old Fashioned
The Old Fashioned is a true classic, dating back to the early 1800s. The term "old fashioned" was first used for making cocktails by mixing spirit, sugar, bitters, and water. It's simple and robust, made with bourbon or rye whiskey, sugar, bitters, and a citrus twist. 
This classic drink originated in Louisville, Kentucky. It later gained popularity at the legendary Waldorf-Astoria Hotel in New York City. 
Mixing Instructions
Muddle a sugar cube and bitters in an old-fashioned glass. Add ice and whiskey, then stir. Express an orange peel over the glass and drop it in as a garnish.
Variations
Swap out the sugar cube for a splash of simple syrup or maple syrup, or try using a different type of bitter for a unique twist.
Margarita
The Margarita is a classic tequila-based cocktail perfect for sipping poolside or at a beach bar. Its origins are disputed, with several stories claiming its creation in Mexico during the 1930s and 1940s. 
This cocktail is the epitome of a party in a glass! Tequila, lime juice, and orange liqueur form the basis of this icy delight. It's a favorite because of its simple yet delicious combination of flavors.
Mixing Instructions
Rim a rocks glass with salt and fill it with ice. In a shaker, combine tequila, orange liqueur, and lime juice. Shake well and strain into the prepared glass. Garnish with a lime wheel.
Variations
For a spicy kick, muddle jalapeño slices with the lime juice before shaking. Or try a Mezcal Margarita for a smoky twist by substituting mezcal for tequila.
Piña Colada
Sometimes, all you need is a tropical escape. "Pina Colada" means "strained pineapple" in Spanish, referring to the drink's key ingredient. Bartender Ramón "Monchito" Marrero mixed it up in 1954 at the Caribe Hilton Hotel in San Juan, Puerto Rico. 
The Piña Colada is a mix of rum, pineapple juice, and coconut cream. It transports you to sandy beaches under swaying palms. Whip up your getaway with this simple pina colada recipe.
Mixing Instructions
Combine rum, pineapple juice, and cream of coconut in a blender with ice. Blend until smooth and pour into a hurricane or highball glass. Garnish with a pineapple wedge and maraschino cherry.
Variations
For a lighter, non-frozen version, shake the ingredients with ice and strain over fresh ice. Or, try using dark rum for a richer flavor.
Bloody Mary
The Bloody Mary is a savory, tomato-based cocktail perfect for brunch or as a hangover cure. Its origins are murky, with various theories pointing to New York City or Paris during the 1920s and 1930s.
The Bloody Mary is often considered a "hair of the dog" hangover remedy due to its mix of hydration, electrolytes, and alcohol. Love it or hate it, it remains a classic that deserves a spot on our list.
Mixing Instructions
Mix vodka, tomato juice, lemon juice, Worcestershire sauce, hot sauce, horseradish, salt, and pepper in a shaker with ice. Shake well and strain into a tall glass filled with fresh ice. Garnish with a celery stalk and lemon wedge. 
Variations
Try using Clamato juice for a Canadian twist called a Caesar, or experiment with different hot sauces and spices for a personalized kick.
Negroni
The Negroni is an Italian classic with a bold, bittersweet flavor profile. The Negroni cocktail originated in Florence, Italy, in the 1900s. Count Camillo Negroni asked his bartender to make his favorite drink, the Americano, stronger. 
Mixing Instructions
Combine gin, Campari, and sweet vermouth in a mixing glass of ice. Stir well, then strain into a rocks glass filled with fresh ice. Garnish with an orange peel.
Variations
For a lighter version, try an Americano by substituting club soda for gin. Or, experiment with different types of vermouth for a unique twist.
Discover the Most Popular Cocktails in the World
From classic concoctions to modern wonders, these most popular cocktails are the shining stars of the drinks world. Why not try one of these iconic choices next time you're in the mood for a tipple? 
While you're at it, check out more articles on AsiaOne to spice up your life! Whether you're a seasoned mixologist or just starting your journey, these famous cocktails provide a solid foundation for any home bar. Cheers!