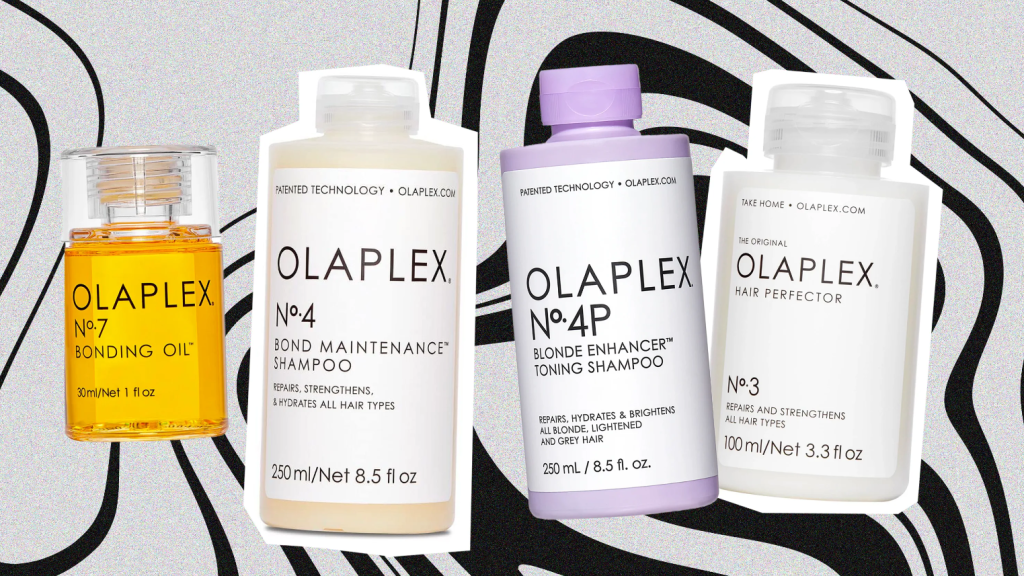 Olaplex is a line of salon-quality hair care products that have snagged a cult following online. They recently made their stock market debut and are now valued at over $15 billion.
The line's patented bond-building technology works on a molecular level to repair broken disulfide bonds in your hair. That means it's a must-have for anyone with damaged locks.
1. It Repairs Damaged Hair
Olaplex is a line of hair products that repairs damaged hair at the molecular level. It's based on a patented active ingredient that seeks out broken disulfide bonds in your hair fibres (caused by chemical, heat and mechanical damage) to repair them.
These bonds are what make your hair strong, healthy and less likely to break in the future. Most other hair products only work on the surface of your strands, which can make your hair look and feel smoother but won't actually repair the damage.
Olaplex does this by reversing the effects of heat, chemicals, intense styling and environment aggressors, says celebrity hairstylist Bradley Leake via email.
There are several different Olaplex treatments, ranging from two to nine. Each one is aimed at a specific problem, so it's important to consult with your stylist before making a purchase.
You can also buy a single-step treatment, Epres Bond Repair Treatment, which is available for around $48 on Amazon. This treatment sprays on to your hair as part of a home routine and works to repair all kinds of damage.
However, Peterkin Bishop said she doesn't recommend using these products in the salon on clients who haven't coloured their hair, as they should only be used by a professional. This is because they may not be following the product directions properly, which could lead to hair loss or further damage.
2. It's Effective on All Hair Types
Whether your hair is natural, colored or chemically treated, Olaplex products are effective on all types of hair. This is because the patented formula uses bis-aminopropyl diglycol dimaleate to find single sulfur hydrogen bonds in your hair and cross-link them back together. This process helps realign broken disulfide bonds that occur from chemical processes, heat and mechanical force.
Essentially, it "glues" your hair back together and restores its strength after any kind of damage. This means that it can help strengthen and revive bleached or color-treated hair, but also maintain healthy strands after virgin hair is exposed to environmental factors like pollution.
It's not surprising why; it works to reverse the breakage of disulfide bonds in your strands, which is what leads to thinning and broken hair.
Most hair care products only protect your strands from the outside, not from the inside. This is where Olaplex comes in; it's able to penetrate the cortex and repair all the disulfide bonds that have been broken.
The Olaplex formula is able to cross-link each of these broken bonds and make your hair stronger than ever before. As a result, you'll have healthier and thicker hair that can handle a variety of styling techniques.
Once you have all of the Olaplex products, it's time to start incorporating them into your hair routine. This is dependent on your specific hair needs and how damaged it is. If your hair is in good condition, you might only need to use one product a week or sporadically.
You can use this treatment on all hair types, including afro hair. It's formulated to repair and prevent damage from chemical treatments, heating, styling and environment aggressors. This makes it an ideal addition to your afro hair care routine.
3. It's Affordable
Olaplex is a new hair care brand that is gaining popularity thanks to social media. It's a great product for anyone looking to repair damaged hair. It also comes at a reasonable price.
When you shop for beauty products, it's important to check the ingredients. This will ensure that you are purchasing the best possible product for your skin and hair. It's also important to check if the product has a high rating from consumers. If it does, you can be sure that it's safe to use.
This is why it's important to look for a product that has hundreds of five-star reviews. It will help you avoid any issues with the product and save you time.
Another way to make sure that you are purchasing the best possible product is to read the ingredients on the bottle. If there are any ingredients that you don't like, this will allow you to find an alternative.
It's also helpful to check if the product is vegan and cruelty-free. You can always ask the seller if they are.
Whether you are a beauty blogger or a regular user, it's important to find a product that is affordable and effective. Luckily, there are many different brands that offer quality hair products at an affordable price.
The best thing about this brand is that it offers products for all types of hair. You can choose from a range of products, including shampoos, conditioners, and styling products.
These products are made with a patented technology that works to "re-link and rebuild the hair bonds" from the inside out. This will help to repair damaged hair, improve thinning hair, and reduce breakage.
You can purchase these products at a range of stores, including Sephora and Ulta. They are also available online, and you can even order them from Amazon.
According to the company, this formula is specially formulated to "restore and strengthen hair bonds." This will help your hair become stronger and healthier, and it will last longer. This will also help your hair grow faster and thicker.
The company also provides free samples to try before buying the full-size. You can also purchase a kit that includes all of the necessary ingredients for the full-size product, so that you don't have to worry about running out.
4. It's Easy to Use
The brand-specific technology incorporated into Olaplex's eight products) works on a molecular level, seeking out the broken bonds within your hair (caused by chemical, heat and mechanical damage).
It then repairs these bonds and generates new growth, leaving your hair feeling and looking softer, shinier and stronger. That's why this molecule is so effective on colour-treated hair, where re-linking the disulfide bonds helps to prolong the life of color and make it look more vibrant than ever.
To use it, simply apply a few drops of the product to damp or dry hair from mid-length to ends. The leave-in treatment helps to fight frizz and prevent flyaways for up to 72 hours, while hydrating and protecting all hair types. It also speeds up blow-dry times, resulting in a smoother finish.
This is a great product for anyone with coloured or treated hair, but it's especially useful for those with curly or wavy locks that are prone to breakage. It uses a patented formula that strengthens the hair, making it shinier and more manageable.
The nourishing formula is made with biotin, argan oil and shea butter to add moisture to the hair and keep it healthy. It also helps to reduce breakage and tangles, and it's suitable for all hair types and types of dye.
Aside from the specialised salon treatments, you can also buy a range of at-home Olaplex products for use on your own hair. They're available in a range of different formulations, so you can choose the best one for your hair type and needs.
It's important to note that you should always consult a professional before using any new haircare product. This will ensure you know which products are safe to use on your specific hair type and that you're not harming your locks.
For a quick way to repair damaged hair, try using an Olaplex shampoo and conditioner. The duo is safe to use on all hair types and is effective at repairing broken disulfide bonds in your hair. You can use it once a week or more depending on how damaged your hair is.