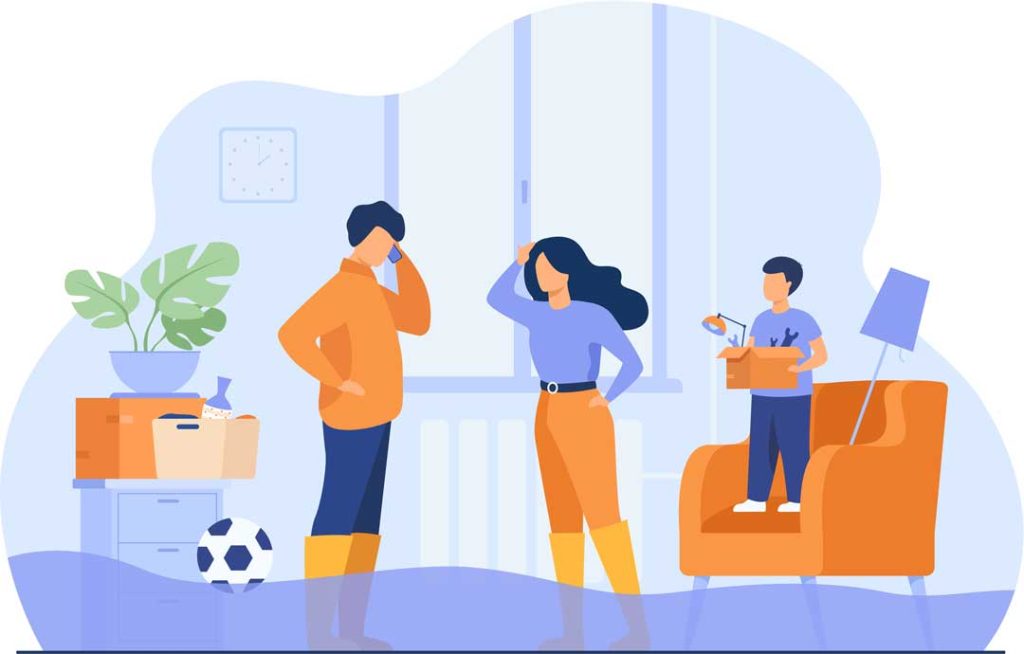 Your property's location and its flood zone are major factors in determining your average NFIP flood insurance premium. Homes in high-risk zones like V and A typically have higher premiums than those in lower-risk areas such as B, C, or X.
Location            
Across the country, homeowners can purchase flood insurance through the National Flood Insurance Program (NFIP). The average flood insurance cost is around $700 annually nationally, which can vary depending on your location.
For example, New York homeowners in Nassau County pay the most for a policy since this county has experienced the most flooding events. On the other hand, Seneca County has experienced fewer flood events, so its residents pay less for coverage. You can find the historical flood risk for a specific address by using FEMA's online tool.
If you live in a high-risk flood zone, the federal government requires that those with a mortgage get an NFIP policy. You can check if your home falls into this category by looking at FEMA's maps and using a tool. Even if you aren't in a flood zone, your mortgage company may require that you buy a policy.
If you are in a low-risk zone, asking your insurer if you qualify for the NFIP Preferred Risk Policy is worth asking your insurer. This offers valuable protection at a lower rate than standard policies in high-risk areas. Additionally, you may qualify for additional discounts if your community participates in the NFIP's Community Rating System. These are only available to some properties, but asking your insurance agent or company about your options is worth the effort.
Elevation
A property's elevation greatly affects how much its flood insurance will cost. Homes in high-risk areas, such as Special Flood Hazard Areas, are more vulnerable to flooding and require higher premiums than those in moderate-to-low-risk zones.
The best way to determine the risk of your home is by obtaining an elevation certificate, which measures how far the lowest floor of your house is above the Base Flood Elevation (BFE) for your community. Having an EC and providing it to your agent can reduce your rate, especially if you live in a moderate-to-low-risk zone. However, you will need a new one if you change your house, such as raising your lowest floor or adding flood openings to your foundation.
Another great way to keep your rates low is to participate in the NFIP's Community Rating System, which rewards communities for implementing programs beyond minimum NFIP requirements—discounts through the CRS range from 5% to 45%. You can check if your community is part of the program here.
Ultimately, your average flood insurance costs will depend on some factors, including location, coverage levels, and deductible. Be sure to assess the potential risks of your home before purchasing, and talk with an independent insurance agent to find the best rate for you.
Flood Risk
If you live in a floodplain or an area prone to flooding, your insurance will be more expensive. The same goes for rocky, sandy, or other hard terrain locations that can slow water flow and cause flash floods.
Another factor that influences the cost of flood insurance is your community's history with flooding and the risk level for your specific property. FEMA's flood maps are constantly changing, and a home previously in a minimal-risk zone could become a high-risk property when the new map is drawn.
Homeowners outside of zones where flood insurance is required filed 40% of NFIP claims and one-third of federal disaster assistance between 2017 and 2019. That's why it's important to keep an eye on your home's location and the risk level in your neighborhood.
It's also worth remembering that the amount you pay for a policy will determine how much you can claim. Most policies have a minimum deductible of $1,250, but you can choose a higher deductible to lower your premium. Just make sure you factor in the value of your belongings when deciding on a deductible. In general, older homes are more expensive to insure than newer ones. This is because older structures are more challenging to protect against the impact of flooding and may require more extensive repairs when a hits.
Community Rating System
Before Risk Rating 2.0, NFIP rates were primarily determined by which flood zone you lived in, with a higher risk area resulting in a higher premium. However, this method was unfair because it needed to consider the costs of rebuilding a property, leading to many homeowners needing more money for insurance.
That is why the NFIP now offers a Community Rating System (CRS) program, where communities can earn discounts on their flood insurance for taking proactive steps to reduce their flood risks. These efforts are rewarded with a CRS class rating ranging from entry-level class 10 to a top-tier class 1. Each step up the CRS class ranking increases the discount on your flood insurance policy.
Using newer, more accurate maps that consider the depth of flooding and how much the land slopes, FEMA has better redesigned the NFIP's rating strategy to reflect the actual risk of your home or business. The rate factors that are now used include:
The flood frequency.

The type of flood risk in your area (river overflow, storm surge, heavy rainfall).

Your distance to a water source.

Your home's elevation.
The best way to keep your flood insurance costs low is to live in a low-to-moderate-risk flood zone, significantly reducing the likelihood of you having to file a claim. However, if you cannot move to a low-risk area, consider getting an Elevation Certificate and submitting it to your NFIP agent to see how the new rating factors will affect your flood insurance premium.